Parts
More Parts…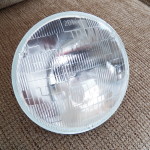 Halogen Headlight bulbs.
Brighter light than incandescent bulbs. For all Packard models from 1940 to 1956. Available in 6V and 12V. $42 for a pair, postpaid.
---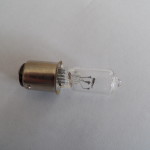 12V Halogen Taillight bulbs
---

5″ heavy duty, 2-ply vent & heater duct for all 1951 thru 1956 models. Made inUSA!  
---

1951 thru 1956, all models. 
Stop Light Switches – Prices Below
Hydraulic stop light switch for all Packard, 1948 through 1958. Two-prong type with Douglas connectors, same as  OEM.
 
 
1935 – 1937 all models, 1838 – 1939 Su8 & 12. Comes with screw connectors. $25 postpaid
1956 Patrician, Four Hundred, Executive and Caribbean $25 postpaid
 

---

For all 1955 & 1956 Packard and Clippers With Power Brakes. TORSION LEVEL Mechanical Brake Light Switch, $79.00 postpaid.

This is an alternative to the rare 3-prong hydraulic brake light switch, and it is not affected by silicone brake fluid, as are hydraulic switches. It is a Mechanical Switch that mounts inside the car, on the lower part of the steering column, which is similar to modern brake light switches. When the brake pedal is at rest, the brake pedal shaft depresses a button on the switch, which keeps the brake lights off, and the Torsion Level energized. When you step on the brake pedal, the button is released, thereby turning on the brake lights and turning off the Torsion Level, in the same manner as the hydraulic switch. TO SEE INSTRUCTIONS

It comes with mounting hardware, a wiring harness and installation instructions. It is relatively simple to install, in less than an hour. See photo and installation instructions.

 

 

---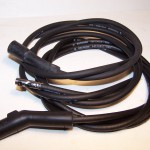 Ignition Wire Sets custom made for me, using Packard "440" copper-core ignition wire, manufactured by Packard Electric in Warren, OH. The word "Packard" is stamped on the wire at 6″ intervals. 8-cylinder sets. SEE PHOTOS. Type A- straight ends without rubber boots, for all models from 1940 thru 1952, 1953 – 1954 Junior. B- straight ends with rubber boots, for 1953 Senior ONLY. C- For 1954 Senior only (359 CID engine), 90 degree rubber boots. D-for all 1955-56 models, rubber boots with a 35 degree bend. The original 1955 – 1956 type had 4 rubber "ribs", these are no longer available. So we use a rubber boot with the correct 35 degree bend, but no ribs. 

For all 1955 and 1955 models, these fit into the rear bumper guards. Perfect fit, with single lead. 
Hood Insulation Pad – Prices Below: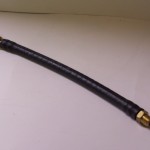 Connects steel gas line to fuel pump.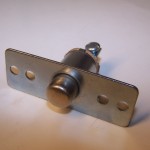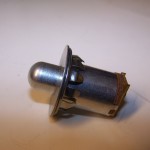 Works on all 1951 to 1956 models, except for 1956 Patrician, Four Hundred and Caribbean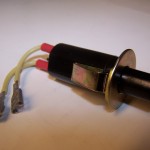 Patrician, Four Hundred and Caribbean ONLY.
Oil Pressure Sending Units
"Gas Caps"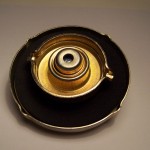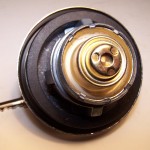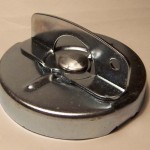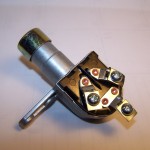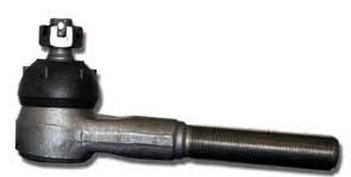 For all 1941 thru 1941 Clipper and models 1948 thru 1956
Bushings, Front Suspension, NEW
For various models, 1953 thru 1956. These are the correct rubber and steel bushings, and are newly manufactured in the USA. They fit:2601, 02, 06, 11, 26, 31, 5402, 06, 11, 26, 31, 5540*, 60, 80, all 56th  –  with Torsion-Level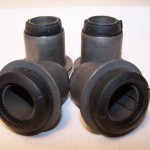 Packard part # 443795 – set of 4 (per car) lower, inner support-arm (or "A" arm) bushings, $115.00 postpaid